It feels like an eternity since I last did a Weekly5 edition, but it's only been a short, one-week break. Now, I think that's a rather good sign as missing something is proof of love, right?
However, life sometimes seems to rush by like a blizzard, washing over you like a tsunami; disorienting, wild, and violent. On Thursday, I got a survey from my college. Subject: Five years later – how did you do?
My God, it's been a ride.
However, it's not the time now to get nostalgic or sentimental, even though we visit some old Weekly5 friends today.
Best,
In January 2021, I first introduced benzii, this promising electro artist from Berlin, with her single Commodity. The second entry followed with Butterflies later in August.
The 19-year-old artist's latest release, Tsunami, is the perfect opportunity to tune in again and be baffled by benzii's progress. Compared to Commodity or the previous single Molotov, Tsunami is more related to Butterflies, dominated by flickering electronic playfulness rather than stomping techno beats.
You could call the track's sound soft, but that's a stretch. Because benzii has this rough, unrefined attitude, an unsettling characteristic runs through her work, but also an unfiltered intimacy. Tsunami describes the wish for unhinged emotions, the longing for trust and love in a distanced, cold world. Sirens howl, synths swirl, and when benzii enters the chorus, the track's breakdown becomes an actual tsunami. Brilliant!
Mattiel, the duo of Atina Mattiel Brown and Jonah Swilley, were initially championed by none other than Jack White. And Mattiel's voice was praised and compared to Nico "with her gorgeously yearning, full-voiced alto range" by Rolling Stone Magazine.
Now, featuring Mattiel's track, Jeff Goldblum is bending Weekly5 rules quite a bit as the song was initially released in 2021. But the band's third record Georgia Gothic came only out in March. However, the song's simply too good not to recommend, with its hilariously pop culture-referencing lyrics.
He came and met me in the bathroom,
A little like a younger Jeff Goldblum.
In Jeff Goldblum, Brown also deviates from her typical vocal style. It's a straightforward indie-rock banger with groove, drive, and swagger. Mattiel prove that there's still good—no, great—indie rock made today.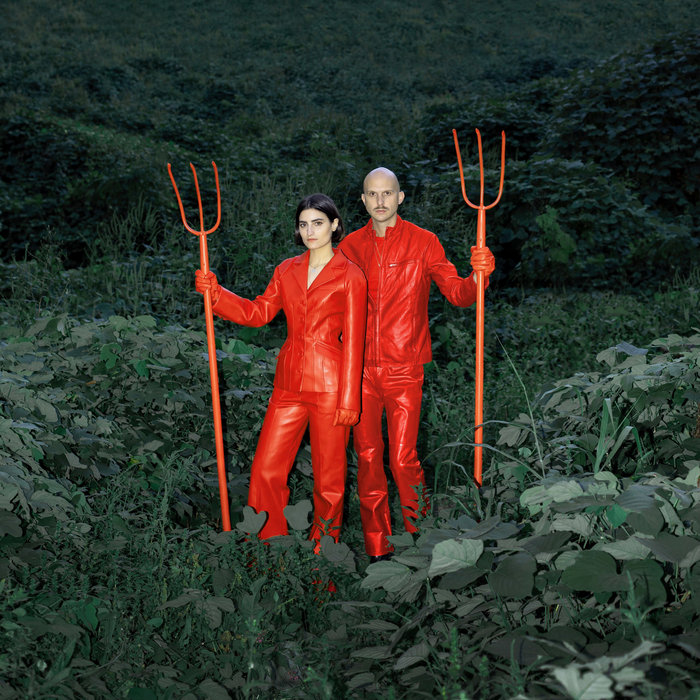 My Generation, this haunting ballad by London's rising storyteller Louis Dunford, was featured in the Weekly5 back in November last year. And it instantly captured my heart with its brilliant lyrics and grande arrangement.
Dunford, who saw his first significant success with the similarly impressive London's Requiem, lately released The Popham EP, featuring My Generation and five more compositions. And each of these songs would deserve a spot in today's selection, but I want to highlight Boys Do Cry—a touching hymn to mental health.
I need help tonight,
'Cause, no one understands me.
All my friends and family say,
I'll be alright, boys don't cry.
But I've been crying lately,
So, maybe you could save me from myself tonight.
The song rips through tabus and stereotypes: Men have to be men. Therapy is a sign of weakness, and only the weak need help. Boys don't cry. Louis Dunford counters these stigmas with beauty, humanity and empathy.
Bumblebees – Little Fish
Switzerland's Bumblebees are back after a three-year break after the release of Dancing Dots in the Dark. The quintet has again found a new take on their blend of indie-pop allures, rocky attitude, and psychedelic escapades.
Little Fish starts immediately; no lengthy intro that draws the things out that need to be said. It's as if the Bumblebees can't wait to get back on stage. There's an urgency to the sound. However, with Little Fish still being a fuzzy psychedelic track, the band later carves out room for the instruments to roam the infinities of the underwater worlds.
Well-balanced, the rock elements and colourful synthesizers create a glimmering vortex. Yes, there's a particular heaviness to Little Fish; the washed-out guitars and crackling drums make sure of that. Nevertheless, the song doesn't feel like it's dragging you down. It floats, takes sharp turns, and is agile and fresh.
Perel & Marie Davidson – Jesus Was An Alien (Radio Edit)
Perel has been part of Edition #39 with her track Real not too long ago. Now, she's back with a collaboration with Marie Davidson.
Jesus Was An Alien shines in the golden light of 80s electro sound. It's a song that works on the dancefloor as well as on an LSD-infused trip through the endless star systems of the universe. Underlined by the French lyrics, a language that transports a ritualistic, mystic ambience like no other, Jesus Was An Alien sounds as dangerous as erotic.
Perel and Marie Davidson have created a mysterious sound reminiscent of tracks like Visage's Fade To Grey. Vintage electro-pop on modern steroids.
Comments